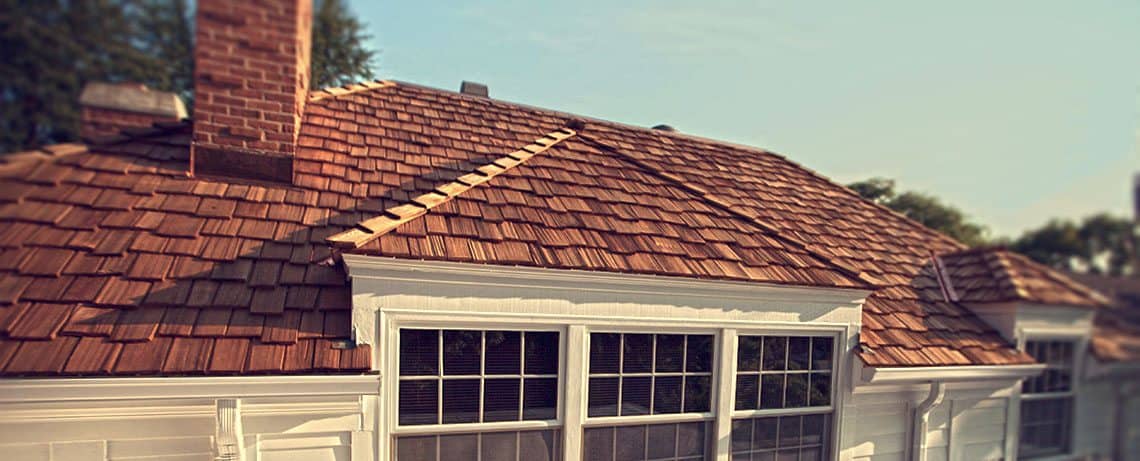 3 Do-It-Yourself Tips for Maintaining Your Cedar Wood Roof
Cedar roofing is the only type of roofing material where regular maintenance can prolong its longevity. Better still, much of this maintenance can be easily done yourself, if you so choose. With these three do-it-yourself maintenance tips, you're well on your way to keeping your cedar wood roof looking great and performing perfectly for many years to come.
Of course, if it's truly beyond treatment, we recommend looking into roof replacement options.
But if it just need a little upkeep, follow along.
Inspect, Clean, Protect
Proper cedar roof maintenance entails conducting inspections for roof damage every year, cleaning it and protecting it with applicable roof repairs, preservatives, or other maintenance needs. As a starting point, follow these three steps for do-it-yourself cedar roof care.
1. Inspecting Your Cedar Roof: You can get a good idea of the condition of your roof by inspecting it from the ground. Look for shingles or shakes that are curling up, cracked, or damaged. Roof repair that is done immediately will prevent further damage and prolong the life of your roof, so contact us as soon as you spot roof damage.
2. Cleaning Your Cedar Shake Roof: A yearly roof cleaning helps to remove debris from the cedar shingles or shakes, especially leaves, twigs and dirt that congregate in the roof's valleys and corners. While basic roofing cleaning can be done with a large broom or garden hose, depending on the style of your home, more advanced cleaning methods may be needed to remove mold, mildew, moss, algae, or fungus growth. We advise against do-it-yourself power washing because the pressure can damage the cedar shingles.
3. Maintaining the Gutters: The gutter system on your home plays an important role in the performance of your cedar roof. If the gutters are not functioning properly, water will become trapped under the cedar shakes or shingles and create roof leaks into your home. Gutter maintenance includes cleaning gutters and downspouts of debris, checking that gutters are not pulling away from the house, and making certain gutters and downspouts are properly positioned and aligned.
When Do-It-Yourself Maintenance Isn't Enough
Cedar wood roofs weather naturally and their look changes with the amount of sunlight and precipitation. Often times, it can be difficult distinguishing between a weathered cedar shake or shingle and one that is discolored from algae, moss, or other fungus. A good rule of thumb is to look at your roof after it rains. If the cedar looks green, then fungal growth is present and needs immediate attention. Contact the Shake Guys as soon as possible for our cedar wood roof cleaning services since these living organisms can deteriorate the cedar wood and spread to other areas of the roof very quickly.
Our Cedar Roof Maintenance Services
Without proper maintenance, your cedar roof may last only 10 years, but if you perform basic annual roof maintenance and rely on the Shake Guys to perform preventive roof maintenance and roof repairs, your cedar roofing system can last a lifetime. Did you know we offer residential and commercial cedar roofing services that include annual inspections, severe storm inspections, maintenance, repair, cleaning and restoration?
We're here whenever your roof needs us. Simply contact us to learn more about all our cedar wood roofing services.