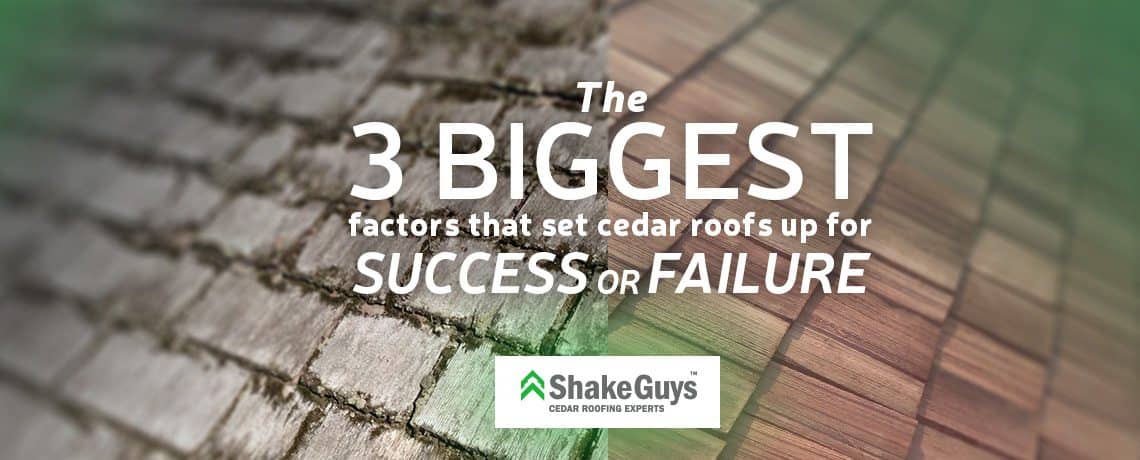 Not All Cedar Roofs are Created Equally!
The 3 biggest factors that set cedar roofs up for success or failure!
If you're looking to install a cedar roof on your home, this article will explore why you don't want to be stingy with the roofing contractor you hire. Cedar shakes and shingles have the potential to make your home look more beautiful or more butchered than any other component. Homeowners and property managers of cedar roofs in the Chicago area need to understand the three points discussed below. Our arguments will open your eyes to the complexities of this type of roofing.
#1 – The star of the show, the cedar, has quality issues!
Cedar Shingles are beautiful but they do tend to be a good deal thinner, weaker and less insulating. To get more bang for the buck, a good roofing contractor will implore you to use a Tapersawn Shake. This is essentially a thicker and more attractive shingle. The price difference shouldn't matter to those who look at the insulation value and the money these shakes will save you annually. Should you go with a shingle, never let a contractor sell you on any Shingle Grade other than #1 Blue Label which has straight grain and will outlast the others with fewer flaws over time.
When it comes to Cedar Shakes & Shingles you also need to be aware of quality. The wood grain is what truly matters most here. Avoid flat grain and slash grain as they will buckle, split, and curl over time. Edge grain is the key to a successful roof. You can identify these shakes easily by looking at the grains running the length of the board. The butt of the shake should follow the grain up and down with little to no slant. The hand selected best of the best of these shakes is known as "Premium 100% Edge Grain". No other wood roof can stand up to their durability, lack of flaws through time, or insulation value!
It's important that residents in Chicagoland know that Shake Guys promotes the use of Shakes over Shingles and ONLY uses Premium 100% Edge Grain unless directed to do otherwise. Contact us today to learn more!
#2 – Who knew a nail could make all the difference!
Believe it or not, the nailing/fastening of the shingle has a lot to do with its short term and long term performance. From nail type to how and where it goes in there are 3 variables to know about.
Nailing the Right Spot: Nailing a shingle too high will weaken the tension. If the shake warps or the roof is hit with sustained high winds (60 MPH or more) the board may lift or crack.
Hammer vs. Nail Gun: The view on this has changed over time but most crews still use hammers. At the end of the day the crew or individual may make the call as to which they use. Nail guns have been a debated issue because some say that they don't have the accuracy needed to prevent the nails from being over driven into the shake. This damages the shake and it is frowned upon. Make sure that your contractor and crew only uses nails, not staples, and if they use nail guns be sure that they are using a pneumatic nail gun and air compressors or something like a Hitachi NV 65 AH 2 1/2″ Coil Nailer to control the drive depth.
The Type of Nail: Cedar shake roof shingles absorb water and do retain moisture for some time, thus the nails will get and stay wet. Plain and coated steel nails rot quickly – heads fall off, shanks rot out, and shingles slip off. This is a chronic issue in the industry due to contractors cutting corners or being uneducated. Bad nails start becoming a problem at around 5 years.Cedar shakes must be nailed with stainless steel nails! The Experts at Shake Guys use ring shanked stainless steel and Maze double hot-dipped zinc coated nails (these nails have a lifetime warranty).
#3 – The Roofing System as a Whole Needs to be Addressed.
The perfect roofing system varies from location to location. The pieces of the puzzle change depending upon climate. Thus the brands and placements of ventilation vary or the adding of an ice and water shield. Then there is the budget and use of metal types in the flashing and other accessories. A place like Chicago sees snow, wind, humidity, etc. and needs a system that works with the wood to have a symbiotic relationship.
You want a contractor who specializes in cedar roofing to walk you through all of the best practices and explain what products they propose to use and why.
Schedule a free inspection and consultation from the cedar roofing experts at Shake Guys to go over your roofing project.