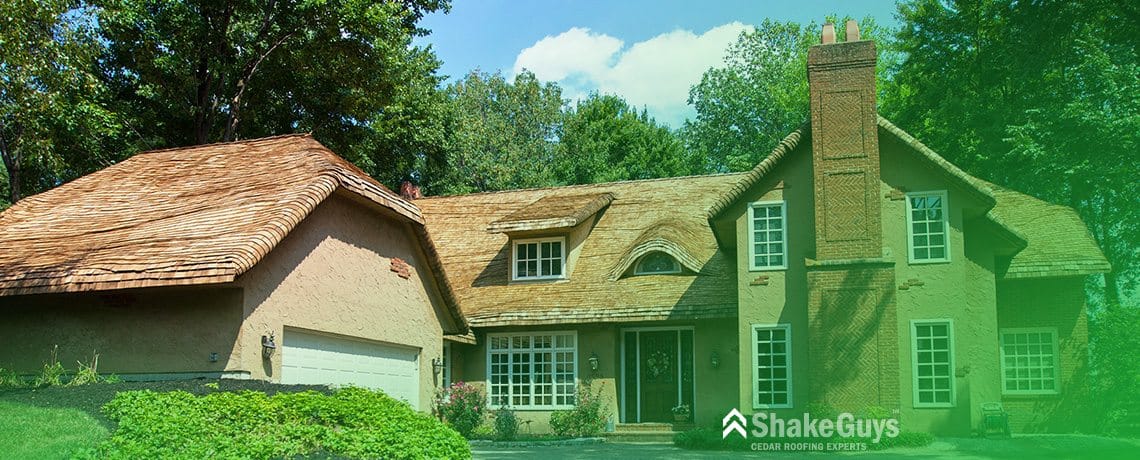 A Look at Steam Bent Cedar Shingle Roofing
When using standard shingles made from wood, ceramic or metal, you end up with a uniform look that matches the surrounding homes in your neighborhood. If you want a truly unique look that makes your home stand out from the crowd in the Chicago area, consider selecting steam bent cedar shingles. Instead of abrupt, sharp edges along the roof-line, steam bent shingles create a soft curved profile at every level.
Installing steam bent cedar shingles, also known as "steam curled shingles", look great many home styles like tiny cottages and expansive Tudors. The moldable shingles allow you to shape your roof in a wave or circular pattern that mimics natural structures. Installers use their skills to create patterns that play with light and shadows. The final layout feels like it has a lot of movement and style as a result.
When these shingles are used to curve the outer edges of the roof, you may completely eliminate the need for gutters around the edges. The rainwater simply flows off the roof in a predictable manner. Here's what you need to know about this exciting roofing material before starting on your own home transformation journey.
Planning Your Steam Bent Cedar Project
Any roof shape or style you dream up can be accomplished through the innovative steam bending process. Your cedar shake roofers apply steam to the wood materials to make them pliable. Once the wood goes through the bending process, it will stay in the given shape for life. As a result, you can really use your imagination when coming up with your roof design.
Despite the relatively average look of the rest of your neighbors in areas like Northern Illinois, building your roof out of steam bent cedar will instantly transform it into a new structure. Use innovative homes found in fairytales, such as castles and cottages, as inspiration during your planning process. Your roofing contractor can help you identify the best curve placement, shingle pattern and finishing touches to complete your dream home.
Have your roofing contractor sketch out your roof design to confirm your vision matches the plans. Do not be afraid to make changes to the plans, as your contractor can easily create the necessary bends needed to achieve the look you seek. Talk about the stain color and final finish as well to find a tone that works well with your current paint scheme. Cedar accepts all stain colors, though reddish tones bring out the natural markings of the wood.
Preparing the Cedar Shingles
Cedar shake roofers seek out the highest quality wood for their projects. The wood must be free of all imperfections, such as knots and insect holes, to stay nice throughout the years. In most cases, roofers in Chicagoland tend to use Western Red Cedar from British Columbia which is extremely plentiful and features a nice grain pattern and even orange to red tones.
The cedar shingles are prepared for roofs in two different ways. Many are hand cut using a small hatchet or axe. Each shingle is split from the block using a steady chop from above. Although shingle producers aim for uniform thicknesses, the split location also depends on the overall pattern of the grain. As a result, it's natural to see slight deviations in thickness for each shingle.
To create completely uniform pieces, producers use power saws to trim thin sheets off each block. Each cut is slightly tapered to create a sloped edge on the shingles. Either type of cedar shingle works well for the steam bending process. Your installer will reflect on your intended design and pattern to choose the best shingle for the cedar roofing job. If the final outcome seems unclear, your installer may even create a small prototype from each shingle type to let you choose between the styles.
Adding Extra Protection to Steam Bent Cedar
Although steam bent cedar shingles fit tightly together, it is highly important to install a thick vapor barrier between the shingles and support boards. Vapor barrier protects against any moisture that ends up beneath the shingles, including condensation on wet, warm days. Your installer will give you a choice between traditional materials or modern variants.
Traditional waterproof barriers include several alternating layers of roofing felt and mastic. This combination makes the wood materials fully waterproof in any climate. Modern materials mimic this setup, but are usually faster and easier to install. The biggest downside is the lack of multiple barriers, such as felt and mastic, which actually protect from perimeter breaches by wildlife and insects. You may also want to weigh the costs of each option to find the one that fits your project budget best.
Creating Custom Bends
As each design requires custom shingle shapes, the bending process takes the most time and effort during the installation process. The custom bends require steady application of steam to soften up the cedar materials. Within fifteen minutes, the cedar will start to feel pliable enough to bend into the desired shape. If installers bend the shingles too early, the wood will weaken or crack between the grains.
The custom bends will snugly around each other to create a tight barrier against the elements. When the installer creates the perfect layout, a blast of cold water sets the shingles' shape permanently. Installers double or triple check placement and shape before setting the shingles to create the tightest seam possible between each piece.
For highly predictable patterns, roofers may create sets of bent shingles for the job offsite. However, most custom work demands onsite shaping of the shingles to create the right layout and pattern. After finishing placement in each section, Lake County, IL roofers may need to shave off portions of the bent shingles to create the right pattern around the curves and edges.
Placing Finishing Touches on Your Steam Bent Cedar Roof
Since steam bent cedar bends around the hips, ridges, valleys and chimneys, your installer can skip the trim tiles and hip starter. You may need the skylights and vents encircled with wood-toned flashing, however, if the curves do not direct water away from those structures. Alternatively, your roof installer can plan ahead and install water channels that direct moisture away from the structures and onto the ground.
If you elect to have the shingles stained after installation, your roofer will start the application process after the wood fully dries. Applying the stain too early traps moisture inside the shingle, which can lead to rot or cause the shingle to lose its custom shape. The roofing professional may also trim the edges of certain sections to create an interesting pattern or soften an edge.
You may see your installer take a step back from the roof to examine its overall structure and plan out the finishing touches. If possible, you should join your installer and add your input to have your desires taken into consideration.
Scheduling Maintenance Tasks
To protect your cedar roofing investment, consider scheduling maintenance tasks well ahead of time. Although steam bent cedar shingles withstand the test of time quite well, the elements can take their toll on the outward appearance over the years. You may see the stain start to wear away or moss start to grow beneath the edges, especially in the valleys. Consider having your roof inspected and cleaned once a year to preserve its whimsical appearance.
If your roofer from Chicagoland finds any imperfections during the inspection, plan to have them repaired right away. Falling branches and wildlife disruptions can severely damage the shingles on your roof. You may not even notice the damage until it is pointed out by your roofing professional. Roofers will need to replace those damaged shingles with brand new, custom bent cedar pieces to restore the gorgeous appearance of your home.
Furthermore, you will need to have stain reapplied every five years or so to maintain the shiny finish and attractive tones. Before reapplying the stain, your installer may need to scrub down the shingles and let them fully dry. A stain removing product may be applied as well, especially if you want to alter the tone or finial finish in any way.
Sharing Your Roof Design
Upon first glance at your finish steam bent cedar roof, you will likely proclaim your love of the innovative design. Although the bent cedar look mimics a thatched appearance, it has a modern feel all its own. You can share the image of your home through social networks to show off your new roof to all of your friends and family in the Chicago area. If you go this route, however, be prepared for a ton of questions and referral requests. Despite gaining popularity fairly quickly, many people have not been exposed to this new way of preparing and installing cedar shingles on houses.
Who to Turn to for a Steam Bent Cedar Roof
Most homeowners will look up roofing companies on the internet to find a steam bent cedar roofing expert. Here are few tips of what to look for when making your choice:
Look for credentials

BBB rating of A- or better
Other online reviews
State licensed (if applicable)

Look for a "company" – not a small outfit
You may need to look as far as neighboring states
If you're fortunate enough to live in Chicagoland area give the cedar roofing experts at Shake Guys a call.