Affordable Authentic Slate Look
Shake Guys is proud to offer the best products on the market for those who want the look of a real slate roof
Several gorgeous colors to choose from, you're sure to find the fit you're looking for. Composite slate is now an affordable maintenance free option without the extreme expense of real slate.
Premium Roofing System from DaVinci Roofscapes can make your dream of owning a genuine slate roof a reality. DaVinci roofs feature:
An Affordable Luxury
Maintenance Free Lifetime Limited Material Warranty
Class A Fire Rated and Class 4 Hail Impact Rating
Stands Up Against Wind, Resistant to Fading and Cracking
Helps Improve your Home's Resale Value
Affordable Benefits
Affordable Real Slate Look
---
Composite roofing is an affordable lightweight slate roofing option that can be installed on most homes. Molded from natural slate, you can now obtain the rich look of real slate without the extra expense.
Authentic Design
Authentic Slate Look
---
Premium roofing products by DaVinci Roofscapes perfected and engineered to emulate the true look of real slate. Custom color matching options can be made available, you can now choose the perfect looking roof.
Maintenance Free
Lifetime Slate Material
---
Made from virgin resins to help improve longevity and maintain your roof's look and performance over time. Resistant to fading, cracking, rotting, pests and decay. DaVinci stands by it's products by offering a Lifetime Limited Material Warranty.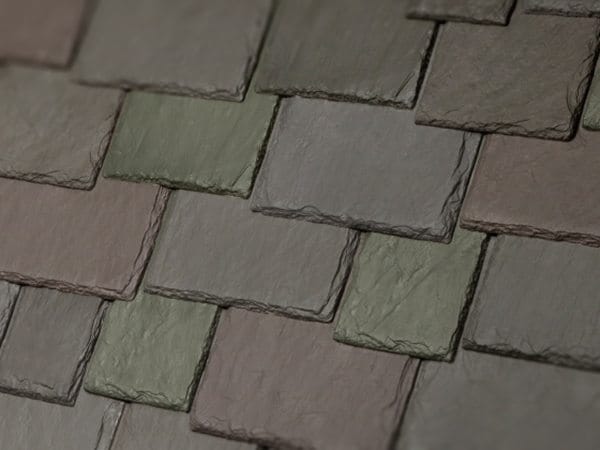 Multi-Width Slate
Can feature a staggered design with a combination of large and small tiles to enhance your roof's aesthetic appeal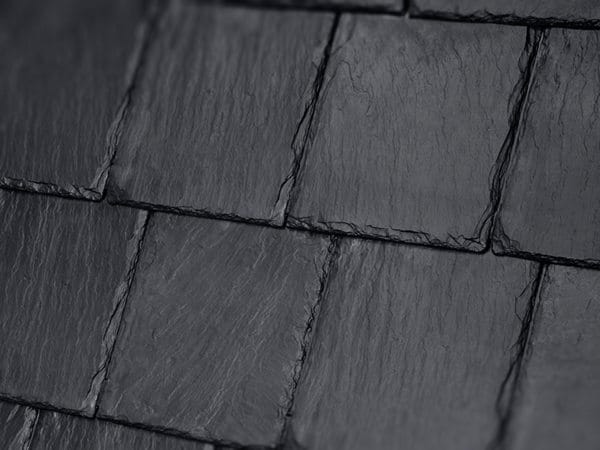 Bellaforte Slate
Larger slate tiles engineered to help reduce waste and improve affordability
Single-Width Slate
Features a traditional straight uniform look of an authentic slate roof
Frequently Asked Questions about Composite Slate
Yes. Typically, homes had to be built, engineered and designed to hold the heavy weight of real slate preventing many homeowners from switching and replacing their roof with real slate. However, composite slate tiles are lightweight and can usually be installed on most roofs that were originally designed for cedar shake or asphalt shingles.
Real slate can last a lifetime. However, composite roofs also provide Lifetime Limited Material Warranty. You can now achieve similar long-lasting performance without the expensive cost of real slate.
When replacing your existing roof with a composite roof, it is important to install underlayment that will help against the accumulation of moisture being trapped under the roof deck. We highly recommend a breathable roofing underlayment, which can help to release trapped moisture that can be found in most roofing attics.
Some roofing materials are only rated as a Class C fire product, while several composite roofing products are rated as a Class A rated product. Class A rated roofing materials are effective against severe fire testing, while Class C products are rated effective against light fire testing. Class A rated roofing materials help provide the most protection in the event of a fire.
You will want to contact your insurance company to find out what discounts may or may not be applicable if you replace your roof with a Class A fire rated roofing product. However, we have found that many insurance companies do provide additional reduced rates if a Class A fire rated roofing product is used for the replacement of your roof. This usually comes into play when you are switching your cedar shake roof to a composite slate or shake roofing system.
Cedar shake roofs can last 30 plus years; however, they do require routine repairs & maintenance in order to maximize the life expectancy of the roof. Composite roofing materials in contrast, do not require routine maintenance. Composite roofing resists rotting, cupping, curling, insects, and ongoing decay that can often occur within a cedar roof. Composite roofs help provide peace of mind in knowing that the roof does not need to be routinely maintained. All backed by a Lifetime Limited Material Warranty.
Schedule a Free Inspection & Consultation