5 Best Roofing Tools for Every DIY Project (Homeowner's Guide)
Roof replacement can leave most homeowners feeling overwhelmed. We know because here at Shake Guys, just like you, we wanted the best tools for our roofing DIY projects. Through careful research and experience, this article reveals the five essential roofing tools that will make your project a breeze! 
Ready to transform your roofing ordeal into an exciting DIY adventure? Let's dive in!
Essential Roofing Tools for DIY Projects
Homeowners should have a few essential tools for a DIY roofing project. These tools include:
Benders

Roofers

Hand seamers

Extension ladders
Another important tool is a moisture meter, which helps detect potential water damage before it becomes a bigger problem. Additionally, a magnetic sweeper can help pick up any nails or other metal debris that may be left behind during the project. A sturdy ladder is crucial for safely and securely accessing different roof areas.
Nail Gun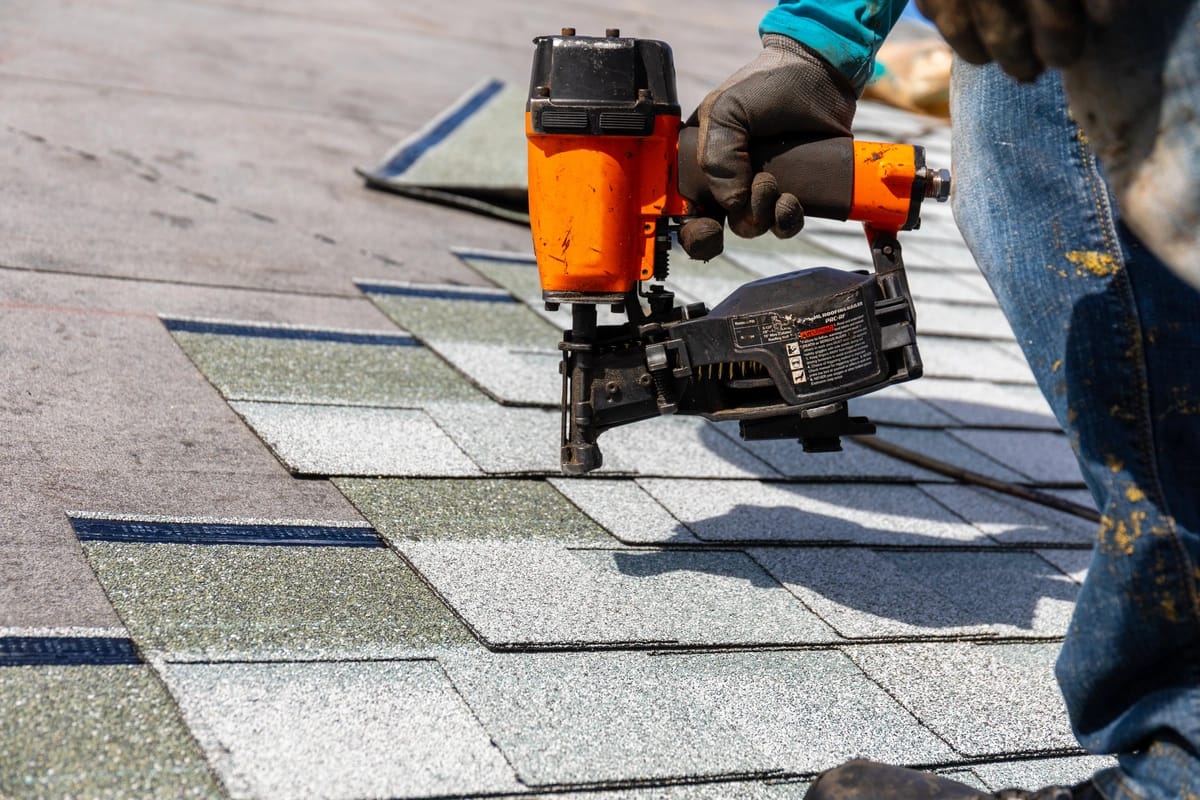 A nail gun is a key tool in any DIY roofing project. This tool rapidly drives nails into roofing shingles, significantly saving time and energy compared to manual nailing.
A good nail gun should:
Be lightweight

Have a sturdy handle

Be durable
Besides its efficiency, its precision is unmatched; it reduces the chances of bent nails, which often occur with hammering. Furthermore, nail guns are designed for convenience featuring easy loading and jam-removal mechanisms.
Moisture Meter
Moisture meters are a roofer's best friend. Their trusty gadgetry allows you to:
Pinpoint leaks in the roof

Check moisture content in timber

Detect water penetration after heavy rain or a storm
They demand meticulous calibration, sampling, and skilled personnel for precise readings – making them even more indispensable to a roofer's toolkit!
Magnetic Sweeper 
Magnetic sweepers are professional-quality tools critical for roofing projects. They efficiently collect ferrous metals such as screws and nails from shingles or the ground. Our favorites are AJC and Roofmaster, renowned brands known for high-performance magnetic sweepers.
An example is the AJC Rolling Magnetic Sweeper, designed to securely gather nails, shards, and small tools in its path. Its use extends beyond roof replacement or repairs; it's a perfect companion during frame construction, siding jobs, or any task involving metallic waste on your property.
A magnetic sweeper helps clear your driveway of potentially dangerous items after a demanding roofing job; it's an indispensable tool that assures safety while saving time and labor costs.
Ladder
Ladders are a crucial tool for any DIY roofing project. They allow the roofer to reach the roof safely, helping homeowners make necessary repairs or perform regular maintenance. Ladders are considered a must-have tool in the Ultimate Roofing Tools List. Their importance regarding safety while working on the roof cannot be overstated.
With a ladder, homeowners and DIY enthusiasts can easily reach their roofs without putting themselves at risk. Whether fixing a leak or cleaning out gutters, having a sturdy and reliable ladder is essential for getting the job done right.
Advanced Roofing Tools for DIY Projects
When it comes to tackling more complex roofing projects, there are a few advanced tools that can make your life easier. These tools provide extra protection and convenience, from automatic safety grips to safety hard hats. Discover the top advanced roofing tools every DIY enthusiast should have.
Automatic Safety Grip
An automatic safety grip is an essential tool for any DIY roofing project. It ensures you can secure yourself to the roof and work safely without worrying about slips or falls. This grip automatically adjusts to your movements, providing a sturdy and reliable hold as you navigate the roof.
Its ergonomic design makes it comfortable for extended periods, reducing fatigue and increasing productivity. With an automatic safety grip, you can focus on the task confidently, knowing you are protected and secure as you complete your roofing project.
Safety Hard Hats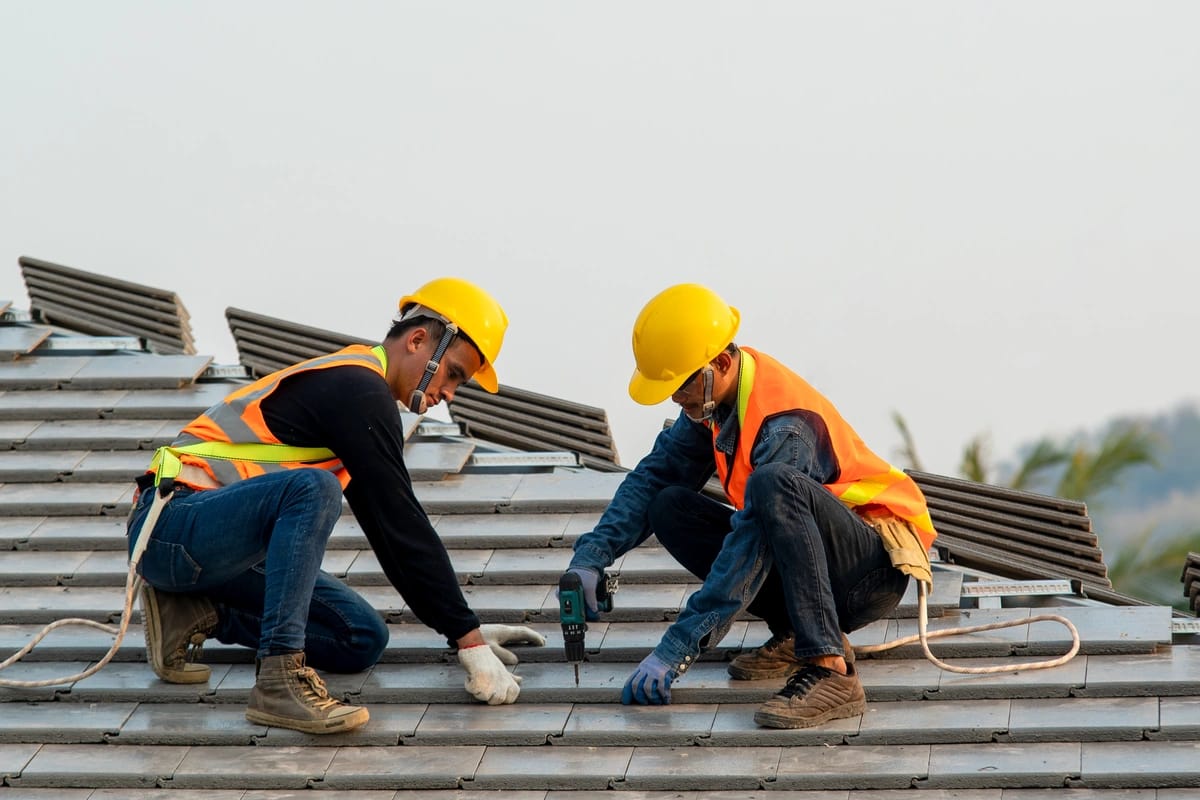 Safety hard hats are crucial protective gear for construction workers involved in roofing projects. These hats protect against falling debris and potential head injuries on the job site.
Our article has compiled a guide to the best safety hard hats available for construction workers. We understand that finding the right hard hat can be challenging, so we conducted thorough research to provide you with reliable recommendations. Ensuring the safety of workers is of utmost importance, and having a hard hat is an essential part of any roofing project.
Utility Knife
Utility knives are incredibly handy tools widely used in various trades and hobbies. Thanks to their sharp blade, compact size, and easy operation, they are known for their versatility.
Regarding roofing projects, utility knives are essential in cutting lighter materials like paper or cardboard. One highly recommended option is the Stanley Twin Blade FatMax Knife, which offers durability and precision for your roofing needs.
Another top choice is the AJC Hatchet Guardian Angle Knife, specifically designed for roofing tasks. With these versatile utility knives by your side, you can tackle any roofing project with ease and efficiency.
Seam Roller
Seam rollers are essential tools for any roofing project. They play a crucial role in ensuring a smooth and professional finish. Seam rollers come in different options, with rollers made of rubber or steel.
These rollers protect the roof and help to seal seams effectively, preventing leaks and damage. Using a seam roller, you can easily press down on the roofing materials, creating a secure bond lasting for years.
Not only do seam rollers improve the sturdiness of your roof installation, but they also increase comfort and productivity during the project. So, consider the importance of having a reliable seam roller in your roofing toolkit!
Roofing Hammer
Every roofing project requires a roofing hammer. Unlike the traditional hammer, a roofing hammer is lightweight, especially handy for roofs when used with benders, and has a specific handle that allows you to work on the roof quickly.
Sheet Metal tools
Sheet metal tools come in different products but are essential to any repair. The Sheet metal tools inventory consists of the following:
Professional hand rivet accessories

Throatless shears (for cutting thick sheets quickly)

Angle grinder (its application is in sharpening and cutting large metal)

Benders (are used for bending metal parts)
Roofing Shovel
Shovels help the roofer sort or sweep shingles off the roof efficiently. Professional contractors bring these products to keep the work environment neat.
Use Safety Equipment and Follow Safety Guidelines
Safety should be the top priority. Use the proper safety equipment and follow safety guidelines to protect yourself from hazards.
Before starting, inspect your ladders for any visible defects and ensure they are in good condition. Wear protective gear such as gloves, goggles, and a hard hat to safeguard against falling debris or accidents.
Please familiarize yourself with state and government guidelines for fall prevention and roof safety procedures. To learn more, visit https://www.osha.gov
Conclusion
Having the right tools is crucial for a successful DIY roofing project. The nail gun allows for efficient and secure shingle installation. A moisture meter helps detect any potential issues with the roof's integrity.
Using a magnetic sweeper helps remove nails or metal debris, preventing potential hazards. And, of course, a sturdy ladder is essential for safe access to the roof. With these tools, homeowners can confidently tackle their roofing projects and enjoy a job well done. If this list sounds too tedious, contact us for all your roofing needs.