4 Best Types Of Roofing Materials (2023 Guide)
Choosing suitable roofing materials can take time and effort for most homeowners. We've also been there, overwhelmed by the myriad of options available. Not to worry, Shake Guys has sifted through numerous resources, factoring in roof cost and the average cost of shingles.
Our blog will provide comprehensive insights into various types of roofing materials available in 2023, their durability, climate compatibility, energy efficiency, and aesthetics—all designed to guide you toward installing that perfect roof over your head.
Read on because a good roof is not just an investment; it's peace of mind too!
Different Types of Roofing Material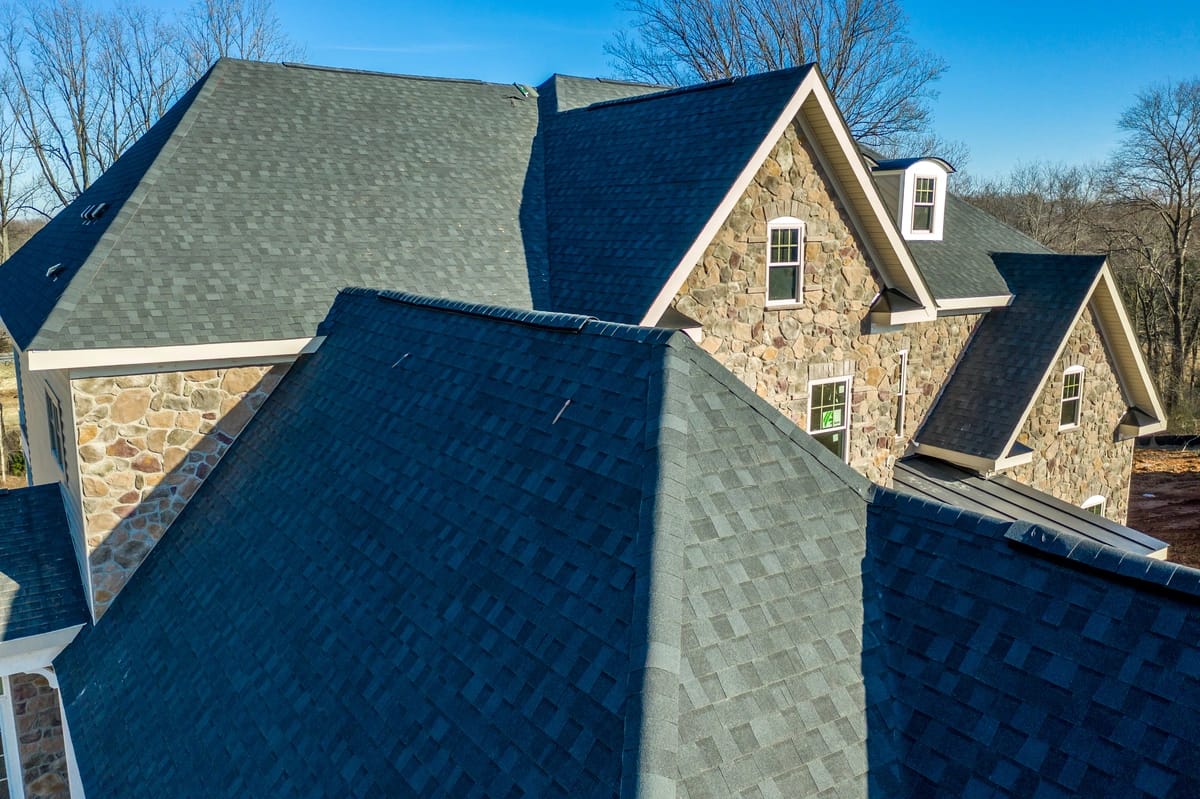 Homeowners can choose from different roofing types depending on the roofing category. These include:
Asphalt shingles

Wood shingles and wood roofs

Composite slate

Composite shakes

Rolled roofing
Each material has unique qualities and benefits, making it essential to consider factors such as longevity, durability, climate compatibility, aesthetics, and style when deciding on the best roofing material for your home.
Asphalt Shingle
An asphalt shingle roof tops the list of popular roofing material choices and comes in a variety of options, including:
Three-tab shingles (tight budget as they have a lower cost per square foot)

Architectural shingles (stylish and affordable)

Asphalt shingles (upscale aesthetic and enhanced durability)
Cedar Shakes 
Cedar shakes stand out as an aesthetically pleasing roofing material. They bring a natural, rustic charm to your home that few other roof materials match. Cedar shakes are made from split wood blocks and promise durability and sustainability.
You'll find two types of roofing for cedar shakes in the market: hand split and taper sawn, each lending a different texture to the roof.
Composite Slate
Composite slate offers a desirable roofing option for homeowners. Made from recycled materials like rubber or plastic, it cleverly mimics the appearance of natural slate. Its lightweight and durable properties make roof replacements with composite slates easier to install and less prone to breakage than their natural counterparts.
They're also more affordable, making them an excellent choice for cost-effective roofing jobs. The best part is the variety—we can find composite slates in multiple colors and styles that make your home stand out uniquely.
So if a brand new roof is on your mind, consider the benefits of composite slate!
Composite Shake
Composite shakes are an excellent roofing material choice due to their durability and long lifespan. Made from a combination of plastic, wood, asphalt, and laminate, they offer the look of traditional wood shakes or slate without the maintenance required for those materials.
Composite shakes are resistant to rot, decay, and insect damage, providing homeowners peace of mind. Additionally, these shakes are lightweight and easy to install, reducing the structural load on your roof.
With their attractive appearance and ability to withstand harsh weather conditions, composite shakes make for a reliable roofing option that lasts years.
Metal Roofing
Metal roofing, especially standing seam metal roofing, is quickly catching on as a worthy roofing material that offers excellent maintenance cost per square foot. Metallic roofs are also fire resistant and considered green roofs since they are more sustainable than wood shingle roofs and concrete roof tiles.
Considerations for Choosing the Best Roofing Material
Several important factors must be considered when choosing the best roofing material for your home. Longevity and durability, climate compatibility, and aesthetics all play a role in making the right choice.
Learn more about these considerations and find the perfect roofing material.
Longevity and Durability
Several roofing materials offer exceptional longevity and durability. For example, clay or cement tile roofs can last 50 to 100 years, making them a durable option for homeowners.
On the other hand, asphalt shingle roofs generally have a lifespan of around 20 to 25 years. If you're looking for even more longevity than flat roofs, consider slate roofs lasting over 50 years.
Additionally, metal roofing is another excellent choice as it is highly durable and long-lasting, offering high solar reflectance and low maintenance. With these options, you can ensure that your roof will stand the test of time and provide lasting protection for your home.
Climate Compatibility
When choosing the best roofing material for your home, it's essential to consider its compatibility with the climate in your area. Different roofing materials have different levels of resistance to extreme weather conditions such as heat, cold, rain, and snow.
For example, asphalt shingles are known for their durability and ability to withstand various climates. Metal roofs are also popular due to their resistance to UV rays and high winds.
Slate tiles and clay tiles are recommended in areas prone to heavy rains or frequent storms. Concrete tiles offer similar protection as opposed to traditional shingles.
Energy Efficiency
When choosing roof materials for residential and commercial buildings, thermal insulation is important. A standing seam metal roof is known for its ability to reflect solar radiant heat, which can help reduce cooling costs by 10-25%. Metal shingles can also facilitate this.
Tile roofing, including concrete, solar roof tiles, and clay tiles, is also considered energy-efficient. These roofs are designed to absorb less solar energy and lower the building's temperature. On the other hand, asphalt shingles may not be as energy-efficient as metal or tile roofs.
It's worth noting that energy-efficient roofs can even qualify for tax credits. These factors can help you decide which green roof material will best suit your needs while saving you money in the long run.
Aesthetics and Style
Different roof materials offer a variety of aesthetics and styles, allowing homeowners to choose a look that suits their preferences. Asphalt shingles, the most popular roof material in the United States, come in a wide range of styles at an affordable price.
Metal roofing provides a modern and sleek aesthetic, perfect for contemporary and industrial-style homes. For those seeking a natural and rustic look, wood shakes add charm and character to traditional or cottage-style houses.
And if you're after a classic and timeless aesthetic, clay tile roofs are often seen on Mediterranean or Spanish-style homes. With so many options available, there are sure to be a few tile roof topping material that complements your home's style beautifully.
Conclusion
In conclusion, choosing the best roof material for your home is an important decision that should not be taken lightly. When selecting, consider longevity, air quality, extra structural support, climate compatibility, energy efficiency, and aesthetics.
Asphalt shingles are popular due to their durability and affordability, even in wet climates. Cedar shakes offer a natural and rustic look but requires more maintenance. Composite slate and shake provide the appearance of authentic materials with added durability. Get in touch with a professional contractor for all your roofing needs.