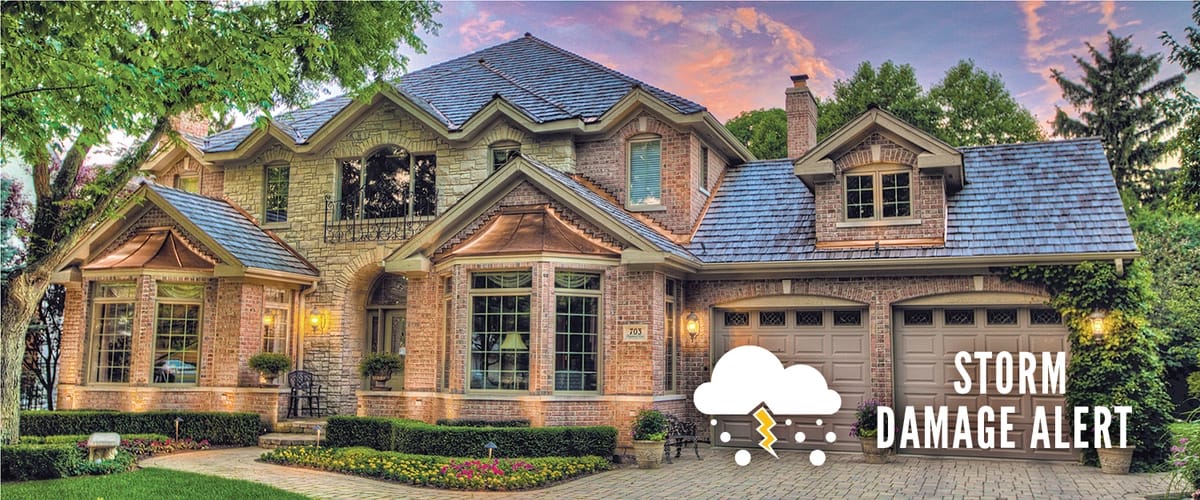 April 2023 Hailstorms Cause Cedar Roof Hail Damage
Shake Guys has been inundated with calls after the April 4th and April 20th hailstorms hit northern Illinois' cedar roofs. Some of the towns affected include Lake Forest, Highland Park, Deerfield, Glencoe, Inverness , Barrington, Long Grove, Park Ridge and Winnetka. Following are three of the main questions on the minds of residents in Chicagoland:
Will hail hurt my cedar shake roof?
Will my insurance pay for hail damage repairs to my cedar roof?
Will I need to repair or replace my cedar roofing system due to the storm damage?
Your roof may be damaged from the April 4th and April 20th Hailstorms. Shake Guys can help determine the current overall condition of your roof.
Call Us Today 847-278-2272
Protect your investment and schedule your Free 17-Point Roof Inspection! Shake Guys will take detailed photos of your roof's current condition. If your roof is compromised by hail or wind, it may qualify for a large repair or full replacement by your insurance company.
Will hail hurt my cedar shake roof?
The quick answer is YES – hail does damage cedar roofing. However, there are only a few instances where hail damage goes beyond denting which is essentially benign. Roofs that are older (15+ years) or have not received preservation treatment are susceptible to damage by larger hail (1.5" on up) that can compromise a roofing system. Wind speed plays in along with hail size to create fractures, splits, ground shake butts, and shingle knock offs. High winds play into this as well but it's the hail that lets it in. Once the felt, nails/fasteners, and sub shingles are exposed the possibility of water damage goes up.
The hailstorms had the right conditions to affect the Northwest, West, and Southwest facing roof slopes of older cedar roofs. The wind speeds and hail size have all proven affective at doing their worst. That's why we advise anyone with a cedar roof, even one as young at 12 years old, who feels they got hit hard to get a free roof inspection by a HAAG certified storm damage technician.
Will my insurance pay for hail damage repairs to my cedar roof?
In most cases of actual widespread hail damage, in the form of splits, fractures and missing shakes, an insurance provider will likely pay for repairs. Unfortunately, some insurers are out to make it difficult to prove your damage is fresh enough or even covered by the policy. Most homeowners need help navigating the insurance claim process. It's important to seek the help of a roofing company that offers storm damage services with some sort of advocacy dealing with your insurer.
Note: Smaller roofing crews won't have the skill to help pass a claim and many roofers who claim to "always" get claims passed are full of themselves!
Will I need to repair or replace my cedar roofing system due to the storm damage?
For smaller cosmetic fixes, many homeowners tend to pay out of pocket for repairs like patches/spot-replacements and nail-downs. Insurance may cover this, but avoiding an insurance claim is usually preferred for the small stuff.
Mid-level hail damage tends to land in the middle of repairs and replacements. Many homeowners will pay out of pocket or just get a smaller claim passed for doing the small fixes plus something more substantial like replacing the ridge caps.
Listening to your roofer's advice on replacement is always a good idea when they know the roofing system is compromised and needs it. Roofs over 25 years old with severe damage just need to be replaced – it's that simple. It does get hard for homeowners of younger roofs to accept the often frightening thought of a full replacement. Oftentimes damage is more severe on a roof that was improperly installed or poor quality cedar was used. Combine those two factors and a roof might not survive its first major hail storm.
Remember, it's always best to have your cedar roof looked at after a large storm. Find a storm damage cedar roofing expert like Shake Guys and put your mind at ease.