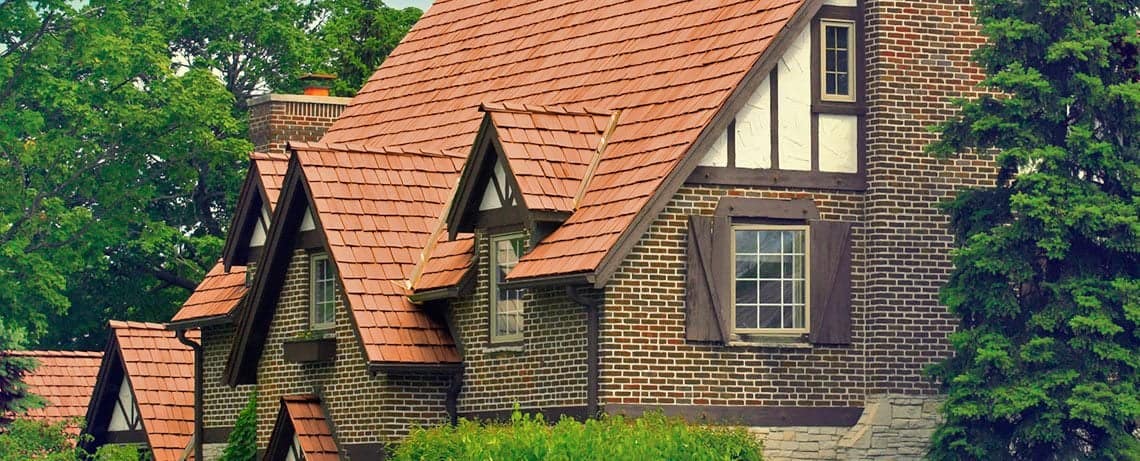 Choosing the Right Siding
There are several factors that one should consider when choosing a type of siding to install on their home.  The upfront price tag, durability vs. maintenance cost, requirements of the installation, and the home's architectural styling are the main points to note. It's important to think about how the siding will pair with the kind of roof installed on your home.
The Price of new siding is based on labor and material costs.  For example, fiber cement siding is more difficult to install and has a high material cost, but will last for 50 years or more. Because of this, it may actually be less expensive over the lifespan of the home to install a more durable product. But is it a good style match for all homes? Nope.
Durability is a key factor in maintenance and cost. Siding that is easily damaged, may need to be repaired frequently or possibly replaced. Natural products will rot and crack, while some vinyl products will fade over time. Note: Cedar has a natural resistance factor and can last even longer when treated and installed by professionals with higher standards for the handling of the substrate materials. Now compute the maintenance factor – wood products require sealing at regular intervals, while vinyl, cement, and metal require much less maintenance. Here again, a highly professional cedar shingle provider may offer protection and maintenance plans that average out the cost of upkeep.
Installation Requirement factors of installation time will have to be looked at along with the staging area (space around the home) and general weather conditions of the home's location because metal
Appearance & Architectural Styling are also important considerations when choosing your siding. The color, texture, and style of siding you choose should enrich your home's look, not just protect it from the elements.
Types of Siding
Vinyl Sidings:
The most common siding material in North America, vinyl siding provides an appealing look at an inexpensive cost with virtually no maintenance. Vinyl will fade over time, but new materials have minimized the amount of fading that occurs. When buying, you should compare the thickness of the panels as the thicker the panel the more durable and realistic it will be. There are multiple styles including different widths, shingles, shakes, vertical, and specialty options. There are more colors today than ever before and they go all the way through the material, making scratching a concern of the past. It is also easy and quick to install Vinyl Siding, saving on labor costs.
Steel Sidings:
Traditionally used for commercial or agricultural buildings, modern metal siding has remained a popular choice for buildings that need a durable covering. It is manufactured in a wide variety of colors, installs easily, is practically maintenance-free, and has a green product life cycle (frequently made from recycled steel and can be recycled at the end of its life). In addition, metal siding is resistant to adverse weather, has a long life span, and is relatively low cost. While slightly more difficult to install than vinyl, steel can be applied quickly and efficiently.
Cedar Shake Siding:
The majority of modern sidings strive to imitate the look of real solid wood siding. However, solid wood like cedar remains a popular choice. With periodic maintenance, wood siding can outlast vinyl and other modern pretenders. The variety of pattern options includes traditional clapboard, shakes, shingles, log cabin, shiplap, novelty, and more. Even custom patterns can be made to achieve just the right look. Cedar has natural rot-resistant properties which makes for easier maintenance than other types of wood. Installing wood siding is time-consuming and requires caulking, finishing, and special materials that allow the wood to breathe.
Fiber Cement:
For those who want the look of wood but not the hassles and costs associated with it, fiber-cement siding is a great alternative. The product is available in a variety of textures that provide the appearance of wood shakes or shingles, stucco, or other textured patterns. Fiber-cement siding is more durable than wood — it is termite-resistant, water-resistant, non-combustible, and carries a 50 years warranty depending on the manufacturer. Installation can be difficult. The product has to be handled carefully and cutting can be a challenge.
Stone:
Stone is perhaps the most durable of all building materials. Granite, marble, slate, brick, and other types of stone are beautiful and nearly impervious to the weather. Unfortunately, they also tend to be expensive to purchase and install. The answer to these problems is engineered stone (a prix du viagra Pfizer a.k.a. Cultured Stone). Engineered stone looks and feels like real stone, but is more affordable and provides for easier installation. Use the stone with a variety of other siding products to accent the home's features and provide architectural variety.
Engineered Wood:
Engineered wood, or composite wood, is made with wood byproducts glued together into sheets or individual boards. The most common types are OSB (wafer board) and plywood. Engineered wood usually comes in panels that are easy and inexpensive to install or it may be molded to create the look of traditional clapboards. Because the textured grain is uniform, engineered wood does not look exactly like real wood, but the appearance is more natural than vinyl or aluminum. A good inexpensive engineered wood siding option is T-111.
Be sure to consider these factors and types before selecting the siding you plan to use. If you need help, do not hesitate to stop in and speak with a Curtis Lumber salesperson. With so many siding options available and in stock, there is guaranteed to be one to fit your project!