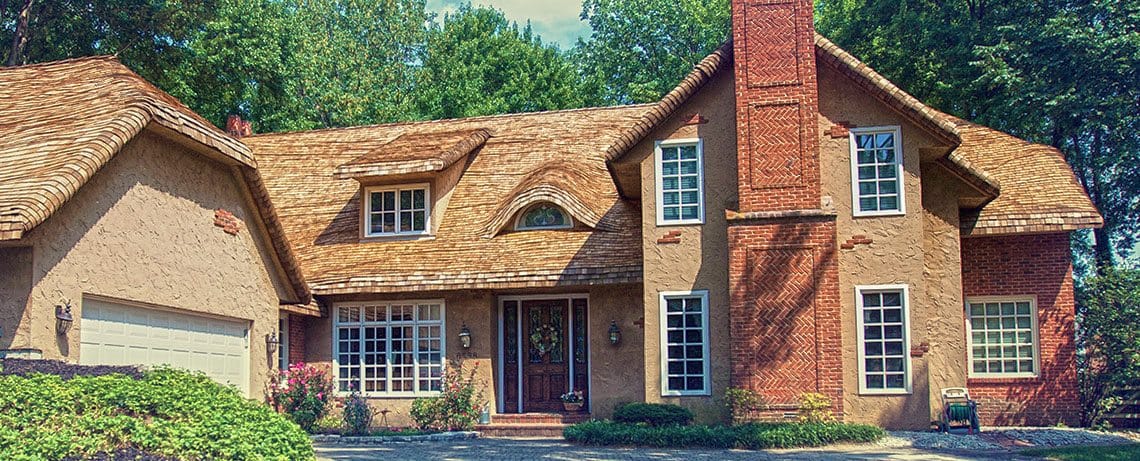 Comparing Cedar Shingles to Cedar Shakes
When you decide to adorn the top of your house with a cedar wood roof, you have the option of cedar shingles or cedar shakes. Wondering what the differences are between the two? This comparison chart provides a quick glimpse of cedar shingles vs. cedar shakes so that you can make an informed decision before you schedule a roof installation.
Cedar Shingles vs Cedar Shakes Comparison
| | | |
| --- | --- | --- |
| Features | Cedar Shingles | Cedar Shakes |
| Appearance | Even taper, uniform thickness | Thicker at butt end, split for more rustic, textured look |
| Installation | Shingles lay flat | Shakes are not uniform, so underlayer of felt paper is required to fill in gaps that create the textured look. |
| Cost | Less than shakes | More precise process makes them more costly than cedar shingles |
| Longevity | 30 years | 40 years |
Cedar Shingles Provide Uniformity
A cedar shingle roof installed several years ago by the Shake Guys.
Cedar shingle roofing is best known for its crisp, even appearance. Cedar shingles are thinner than shakes and available in three different thickness inches and lengths. Sawn on both sides by machine, cedar wood shingles are evenly tapered to achieve a uniform thickness. Their appearance produces an elegant and natural roof covering.
Cedar Shakes Give That Rustic Look
A handsplit cedar shake roof recently installed by the Shake Guys.
Homeowners who want to achieve a rustic or historic look on their home choose cedar shake roofing. Cedar shakes are hand split from logs and shaped with a thicker end to achieve their distinguished rustic appearance. There are several different cedar shake styles. A split and resawn shake is hand split on one side and sawn on the back side to achieve a true rustic look. A tapersawn shake is sawn on both sides but features a natural taper to achieve a semi-textured look with a strong shadow line. Because a cedar shake is hand split, the integrity of the natural wood grain remains in tact. By not slicing through the grain, cedar wood shakes last longer than sawn shingles.
Rely On Our Cedar Roofing Expertise
If you need help deciding between cedar shingles and cedar shakes, we'll be happy to assist you with your selection. We'll evaluate the style of your home, its architectural features and its surroundings and provide you with the best options. But whether you go with cedar wood shingles or cedar shakes, you can be certain our western red cedar roofing will give your home a stately appearance.
Get in touch with us today to explore your cedar wood roofing options or to obtain a free estimate. We install cedar roofs on new homes as well as cedar roof replacements on existing homes. You'll be amazed at how a cedar roof can transform the appearance of your home!