Power Washing – Friend or Foe to your Cedar Roof?
For those looking to restore the appearance of cedar shakes, power washing can be a great option. However, misuse of a power washer can result in disaster for your cedar roof, so following certain guidelines or using a contractor to perform a power wash is strongly advised.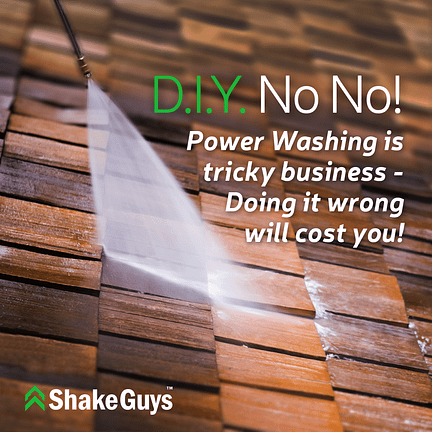 The Reasons to Use a Power Washer
Cedar shakes naturally decay slightly over time, and can begin to take on a slightly dull appearance at surface level. Power washing can act like sanding away this layer of weathered wood, restoring your roof and its fresh look.
Furthermore, an effective pressure wash can fight the kinds of decay that cannot be combated with chlorine solutions, such as algae, moss and lichen.
Cautions from the Experts
Nonetheless, power washing has come under scrutiny from the Cedar Shake and Shingle Bureau. They claim that it is a very controversial way of treating a cedar roof, due to the impact that high pressure can have on the wood – damages such as feathering and splitting have been heavily linked to pressure washing. Although this damage may seem trivial, the splitting of cedar wood shakes is irreversible, and can lead to leaking and interior flooding.
Our Suggestion
Despite the higher cost of contracting a specialist to pressure wash your cedar shake roof, we believe that the safety guarantee of a professional is worth it.